How to cook Puttanesca like The Daily Catch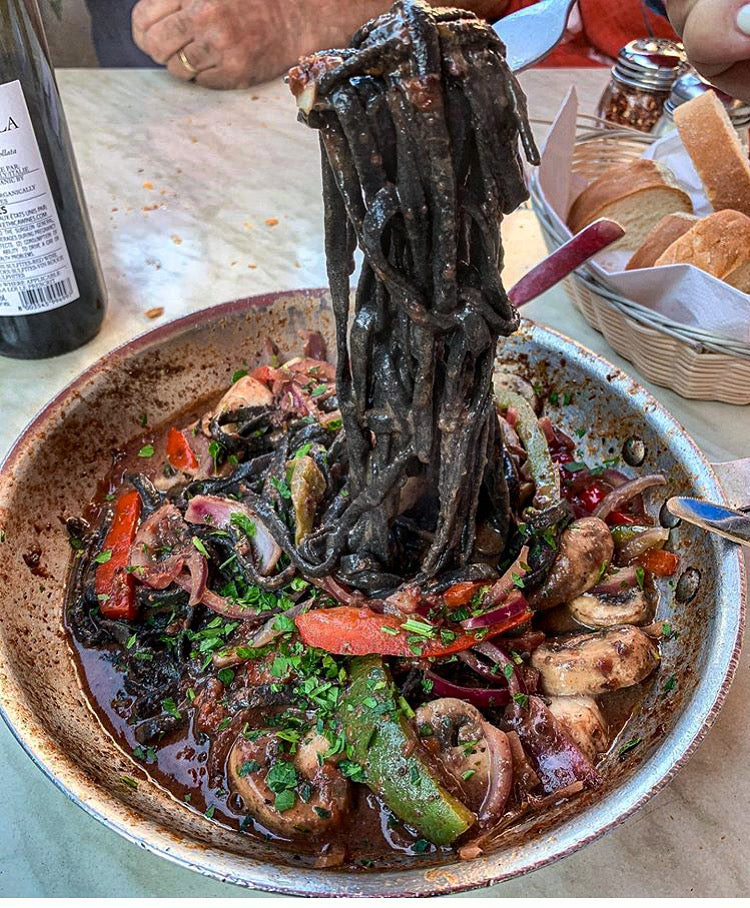 Black Pasta Puttanesca: A Family Recipe Served at The Daily Catch Since 1973
Puttanesca is a mouthwatering sauce full of umami comprised of rich anchovies and olives. Its pungent aromas transform into deep flavor with every bite. At The Daily Catch, we puree all the ingredients and make a puttanesca compound butter.
The blended butter provides a modified flavor that is mature and full of umami, sweetness from the tomatoes, saltiness from the anchovies, and a little sourness from the olives. You get all the flavor as it builds and develops on your palate.
What makes our Puttanesca unique is the cut of pasta we use and our signature seafood tomato sauce. Our Black Squid Ink Pasta is fresh pasta and a thicker cut of linguine that absorbs the rich oils from the sauce. Our Seafood Tomato Sauce simmers with lobster and crab bodies for 12 hours, giving it a seafood essence that pulls all of the flavors together, from the anchovy to the olives.
Puttanesca is a rich and juicy sauce with an intriguing history. See our easy recipe and how you can cook Black Pasta Puttanesca like The Daily Catch in 20 minutes!
Black Pasta Puttanesca Recipe
Time: 20 Minutes
Yield: 2 - 3 Servings
Directions
Bring 5 cups of salted water to a boil and cook 

The Daily Catch Black Pasta

 for 3-4 minutes until al dente. 

Meanwhile, coat the bottom of a 

sauté pan

 with a thin layer of olive oil on medium heat. Add garlic, peppers, onions, mushroom, and spices and cook until softened (if you are using fresh tomatoes, add them now).

Once the garlic turns golden, deglaze the pan with white wine. Add 

The Daily Catch Seafood Tomato Sauce

 and cook until a simmer. Turn your heat to low, add 

The Daily Catch Puttanesca Butter

 and mix until melted and incorporated.

Strain pasta and toss in the sauce. Sprinkle parsley and Romano and serve
Try this recipe for yourself by purchasing the ingredients: