How to cook Scampi like The Daily Catch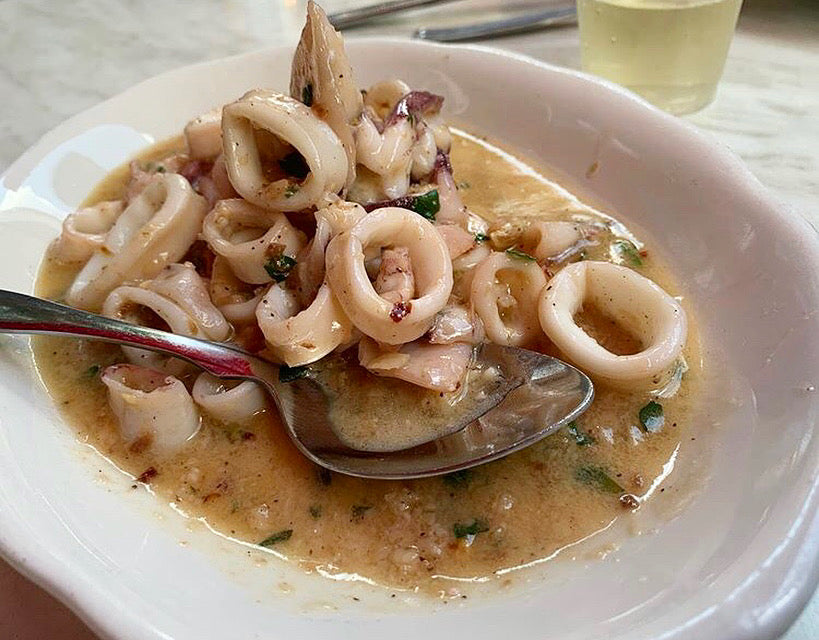 Calamari Scampi: One of Seven Ways The Daily Catch Prepares Squid
Scampi is a simple sauce bursting with flavors of garlic, lemon, and butter. This recipe only takes a few minutes and will be sure to have your stomach growling and taste buds tingling.

Traditionally, scampi is a straightforward sauce. You get quality olive oil, garlic, lemon, parsley, and a little butter at the end. At The Daily Catch, we add dry white wine to give the sauce some depth and Romano (sheep) cheese to make it thicker and creamier.
Shrimp scampi is traditional and found on menus across America. However, Calamari Scampi is a specialty of The Daily Catch and is one of seven ways we prepare calamari! Sauté the calamari separately as to cook off the water that comes out of the squid. Build up your scampi sauce in a separate pan and add the calamari before you deglaze the pan with wine.

To make the perfect scampi, you must use our Scampi Compound Butter to finish off your sauce. Our butter is packed with a signature blend of herbs and spices to create authentic Daily Catch flavors that can't be replicated without our ingredients. See our easy recipe and how you can cook Calamari or Shrimp Scampi like The Daily Catch in 10 minutes!
Calamari Scampi Recipe
Time: 20 Minutes
Yield: 2 – 4 Servings 
Ingredients:
1 Stick of The Daily Catch Scampi Butter

2 cloves Garlic, minced

¼ cup Dry White Wine

½ lb linguine (optional)

Olive Oil for sautéing

Salt, Pepper & Red Pepper flakes to taste 
 Directions:
If serving over pasta, bring 5 cups of salted water to a boil and cook the linguine until al dente

On medium heat, sauté oil, garlic, salt, pepper, and red pepper flakes until your garlic starts to turn light brown.

Add calamari or shrimp and sauté for about two minutes. Add white wine to deglaze the pan, stir to incorporate. Calamari or shrimp will begin to curl and the wine will cook off (approx. 2 minutes)
Cut The Daily Catch Scampi Butter into small pieces and add half a stick. Bring heat to low and stir the sauce constantly, allowing the butter to melt. Remove from the heat and add the second half stick of the butter, stirring constantly for an even melt.

Optional, toss in pasta, or serve with bread.
Try this recipe for yourself by purchasing the ingredients: